How to Play Poker Lotto – Game Details and Winning Strategies
Every Canadian player with an open mind for gambling must have heard about Poker Lotto. Those who did not (yet) will probably scratch their heads and ask themselves: what is Poker Lotto? In precise terms, the game is an instant win and daily draw gambling fun where you have the chance to win a progressive jackpot if you opt in for that extra feature. The jackpot starts at $10,000 and grows until a value of around $100,000 is reached.
As the combination of pretty much the most popular table game and the lottery draw routine, it features a standard 52-card deck and therefore requires poker skills, right? That is only one of the many questions we will tend to with this article, so stay tuned and know everything about lotto poker at the end of our shared journey. Let's go!

How to Play Poker Lotto
Poker Lotto games work in a very self-explanatory fashion. You can purchase a ticket at the expense of $2 per play/per hand, and you are free to play up to three hands per ticket. There is an extra, costing $1 per hand, with which you unlock the jackpot addition. Depending on the  lottery of your jurisdiction or trust, it is called All-In (OLG Poker Lotto), Tag (Atlantic Lottery), or Plus (Loto Quebec). The game is only available via quick pick, and accordingly, you are not allowed to choose your selection of numbers.
If you buy a ticket from the local retailer, you will see the terminal as it forms a random hand of 5 cards from a 52-card deck. Similarly, the Random Number Generator (as with slots in  online casinos) will select the numbers for you if you play online. Then, the moment of truth comes. As you face the cards in front of you, you can win an instant prize of up to $5,000 (OLG and Loto Quebec) or $10,000 (ALC) and free play tickets. But don't despair if your lottery ticket wasn't your lucky. You will automatically participate in the nightly draws at 11:00 pm Eastern time or 11:29:59 pm Atlantic time.
Again, five cards are drawn, and you win by matching two or more cards to your quick pick selection. Encore rewards are not partaking in the prize amounts, by the way.
Poker Lotto All-In
With the regular lotto poker tickets, you can redeem up to three All-In extras. With these, you have the chance to win up to three times on one  poker hand. The progressive jackpot is interlinked between all the lottery terminals of your jurisdiction and seeds at a $10,000 minimum level. The  jackpot can grow to more than $100,000. Players have the opportunity to check the current jackpot amount on the terminal display or online.
The practical stance of All-In (and its equivalents) is that you win beyond instant prizes. With the cards drawn, you may win both the All-In portion and the instant prize hand before the nightly draw. It is, therefore, a good idea to consider adding the surplus option for the next draw in case you did not get yourself to try it out before.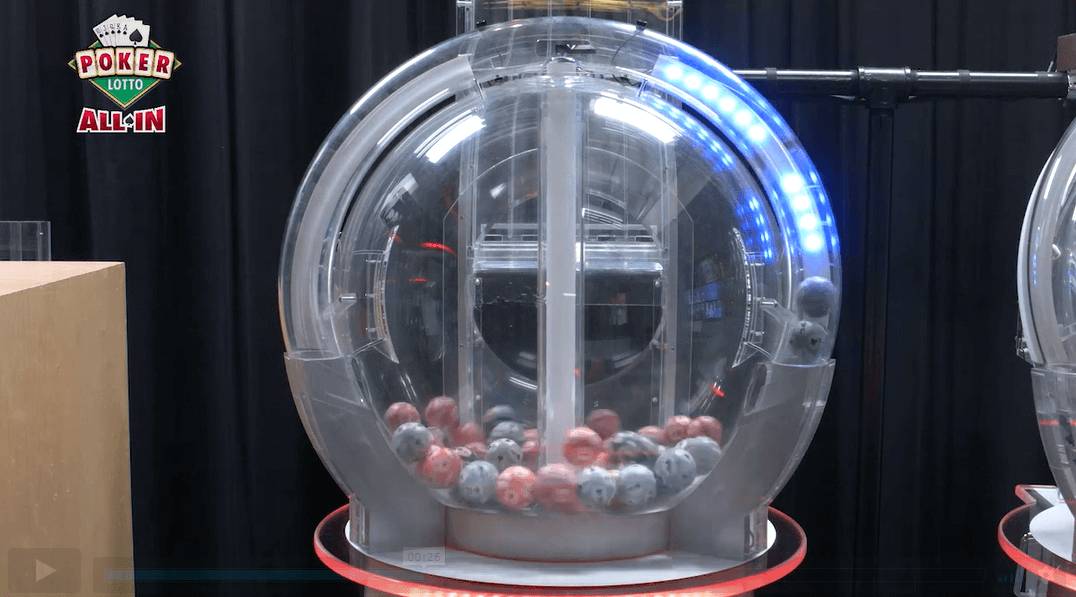 Odds of Winning Poker Lotto
Your winning selection can obtain one out of nine instant prizes in the first draw. The prize correlates with your poker hands and comes with the following odds:
Pair of Jacks or Better:

1 in 7,7

2 pairs:

1 in 21

Three of a kind:

1 in 47,3

Straight:

1 in 254,8

Flush:

1 in 508,8

Full House:

1 in 694,2

Four of a kind:

1 in 4,165

Straight Flush:

1 in 72,193.3

Royal Flush:

1 in 649,740

Overall odds of instant prize-winning poker hand:

1 in 4,8

Overall odds of receiving an instant All-In win:

1 in 273,1
Generally, we can say that the chances of collecting any prize with Poker  Lotto winning numbers are 1 in 3,66. For the nightly draw, four prizes must match with the same suit and the same rank in any order. Odds for winning numbers are:
2 out of 5:

1 in 16

3 out of 5:

1 in 240,4

4 out of 5:

1 in 11,059.4

5 out of 5:

1 in 2,598,960
That sums up the total odds of winning a nightly draw prize of 1 in 15,01.
Poker Lotto Payouts
The overall payout of lotto poker is 59,9 per cent for the standard  game and 50 per cent for the extra option. Let's glance at the payouts of the different poker hands that you can get:
For a pair of Jacks (or better), you win a free play ticket.

For 2 pairs, you achieve $2.

For 3 of a kind, you claim $5.

For a straight, you win $20.

You will get $50 instantly and $50 extra for a flush.

You are in for a $75 instant prize and $75 extra for a full house.

For 4 of a kind, it is $175 instantly and $175 additionally if you took All-In/Tag etc.

You win $500 directly and 10% of the jackpot for a straight flush, which is no less than $1,000.

And for a royal flush, you take away $5,000 fixed and 100% of the jackpot, which seeds at $10,000.
There are four prizes with the nightly draw. These are $5 for two out of five, $25 for three out of five, and $500 for four out of five. Eventually, there is also $100,000 for five cards out of five.
It's Lotto, Poker Skills are NOT Needed
Returning to the initial question, we can now tell you that you do not require any poker  skills to play this game. The key concepts of the game conditions include the notion that all your winnings will be instantly displayed on the terminal or computer screen. It is an advantage if you know about poker hands, but just in terms of celebrating your success split seconds earlier.
The integral point is that there are no  winning strategies at all. Other than with the support of Lady Luck, you cannot influence the outcome of your ticket!
Redeem your Prize
If you win, you have two options for dealing with that situation. On the one side, you can immediately claim your instant win. On the other side, you can wait until the nightly draw is over. Given the circumstance that you choose the first option, you receive your prize right away, and the retailer will hand out your exchange ticket in case you play in person. Otherwise, your prizes are paid in the combination of a possible instant and extra win.
Keep in mind that there is a limit on how local retailers can pay out your  winnings. If you manage to obtain higher money amounts, you will need to contact the lottery association responsible for the game.
The Bottom Line of Playing Lotto Poker
Ultimately, the draws of this trendy  Canadian instant game replace casual numbers with cards of standard poker decks. It's a fun source and comes with excellent odds of winning any prize (1 in 3,66). The base ticket price is regular with $2 per play, and the extra option opens up massive space for jackpot wins with $1 per play wagered additionally.
Although it allows you to be completely stripped of any poker knowledge, it won't do any harm if you are aware of the available hands in poker. That shapes lotto poker as a pure game of chance where you cannot impact the results, whether skills,  strategy, or whatever else. Nevertheless, it remains a beloved lotto version in Canada due to its progressive jackpot and the $100,000 grand prize during the night draw. With up to 3 prizes per hand, new players will surely want to get acquainted with it!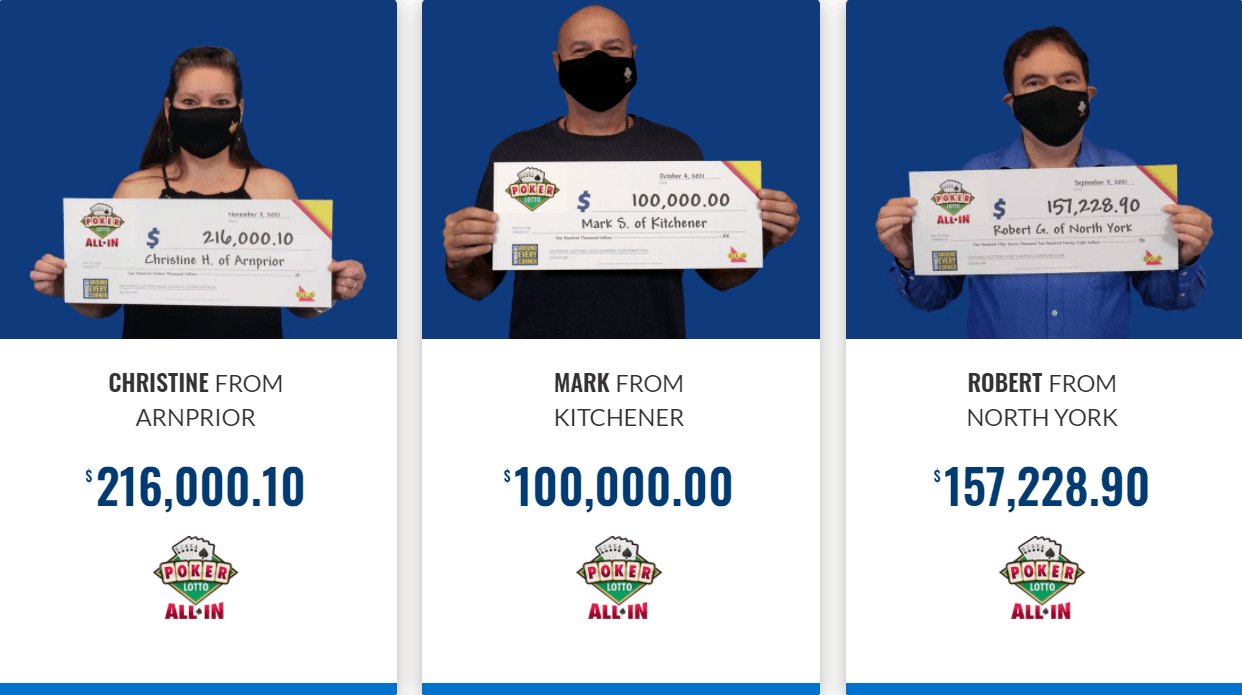 Poker Lotto FAQ
How much is a Poker Lotto ticket?
You can purchase a ticket at $2 per play. Overall, you can include up to 3 hands ($6) per ticket. The jackpot extra costs $1 per play beyond that.
What is the top prize on the nightly draw for Poker Lotto?
If you match 5/5 with the same rank and the same suit in any given order, you can win a top prize of $100,000.
How do you win on Poker Lotto?
The exciting opportunity is that the terminal or computer randomly draws five cards out of a standard 52-deck and matches them with the lottery draw. You can instantly win if you hit one of the available hands (straight, four of a kind, full house, etc.) or go on for another chance by matching the cards during the nightly draws.
Can I play Poker Lotto online?
Like with many other lottery games, you can play lotto poker without visiting the next retailer.
What time is the Lotto Poker draw?
That depends on your time zone. With Eastern time, it will be approximately 11:00 pm. With Atlantic time yet again, the draws occur around 11:29:59 pm.
How to win All-In on Poker Lotto?
Match at least two cards of the same suit and rank in any order to win $5. If you match five out of five, you win the grand prize of $100,000.