Lottery Games – Types, Ways to Play, and Tips to Win
Types of Lottery Games
Playing lottery games in Canada is a favourite pastime of many people. Lotteries bring unparalleled excitement, and the anticipation of a huge win motivates people to buy lottery tickets.
There are many different Canadian lotteries to enjoy, from daily and weekly lotto draws to charitable gaming to raise money and instant games. The fact is that there is something for every taste and desire.
This guide on Canadian lottery games will point towards the best lotto games you can try playing. You will learn how to play it online and offline and find some helpful tips and advice on how to win the lottery in Canada.
Top Canadian Lotteries – Purchase Your Lottery Ticket Today
Players have a choice to participate in different lotteries. Some of the Canadian lotteries are provincial, and some are country-wide. Besides that, lotto games also come with various jackpots. If you are a new player or someone who wants to know a bit more about lotto games, here are the most popular Canadian lotteries you can participate in.

Lotto MAX
Lotto MAX is one of the best and most attractive Canadian lotteries you can play. That is because of the enormous jackpots that can go up to C$70 million! In this draw-based lottery game, players need to pick seven numbers between 1 and 50.
Lotto draws regularly go every Tuesday and Friday, and the price of a Lotto Max ticket is just C$5. Even if you do not ever win the Lotto Max Jackpot, you can win many other valuable prizes besides the grand prize. The minor prize is winning a free Lotto Max ticket, awarded if you match 3 of the seven winning numbers.
The odds of winning any kind of prize in the Lotto Max game are 1-in-7, which are pretty good overall odds for a lotto ticket. However, becoming a Lotto Max Jackpot winner comes with odds of 1-in-33 million, which is pretty slim, but you never know – it might happen!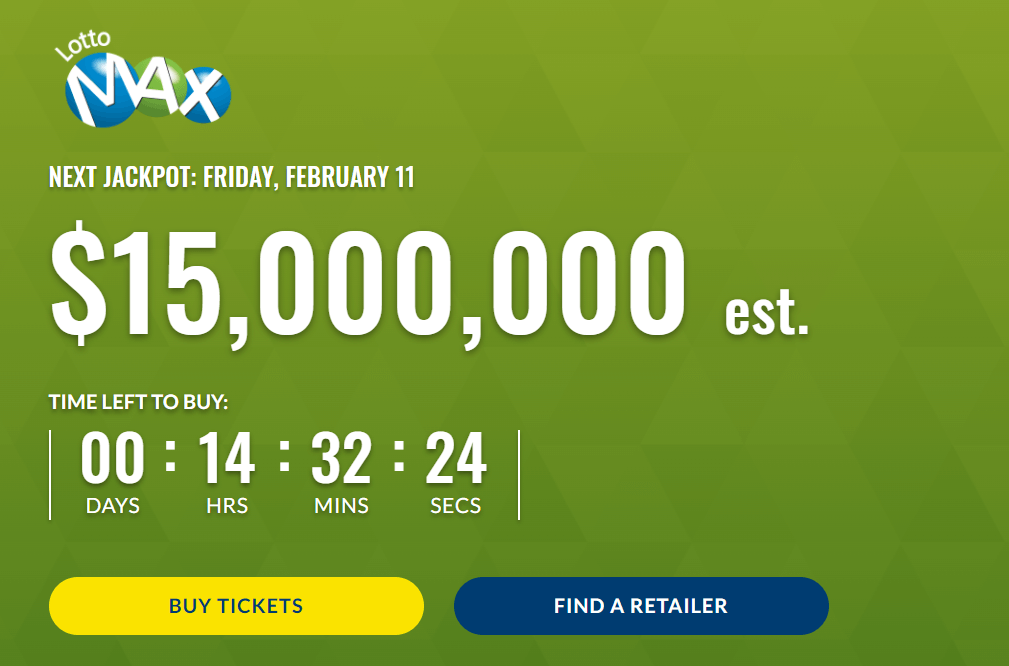 Lotto 6/49
Lotto 6/49 is a favourite lottery for millions of Canadians. The jackpot starts at around C$5 million in this game and can go up indefinitely until some lucky winner wins it. The lotto ticket for this draw is very cheap, only C$3, which also comes with a 10-digit code that grants participation of players in the C$1 million guaranteed prize draw.
Like Lotto Max, Lotto 6/49 draws happen twice a week – the first draw is on Wednesday, and the next draw is on Saturday. As the name of the lottery suggests, players have to pick their favourite six numbers between 1 and 49.
Ticket holders have 1-in-13.9 million odds to become a jackpot winner in this draw. However, winning any prize in this game comes with relatively low odds of 1-in-6.6. For a minimum payout, you need to match at least 2 of the six winning numbers, which will win you a free lotto ticket for the next draw date.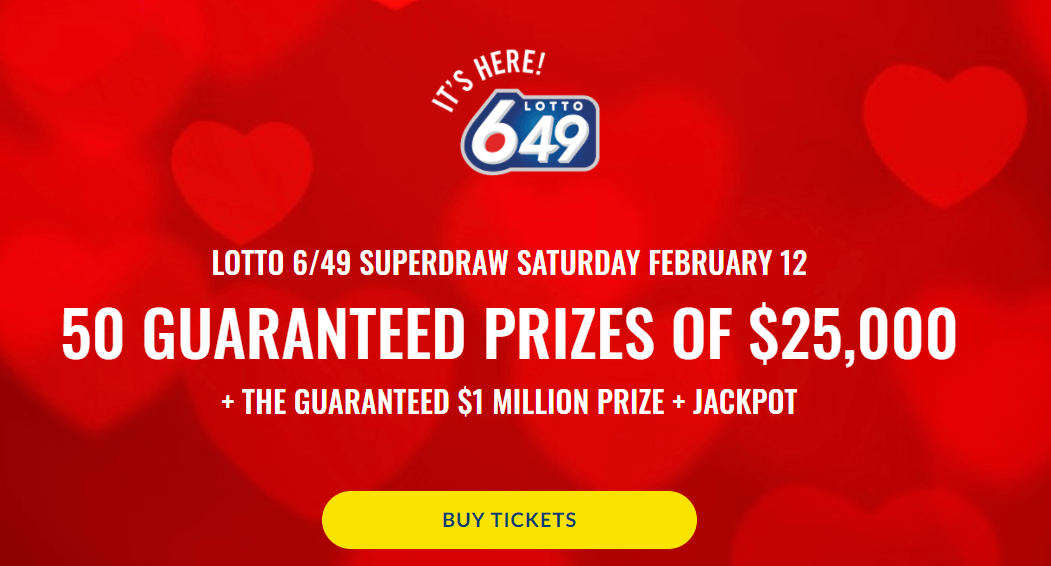 Daily Grand 
The Daily Grand is a country-wide Canadian lottery with an exciting jackpot. If you win, you will receive C$1,000 per day for the rest of your life. Alternatively, you can opt for receiving a one-time payment of C$7 million if that is what you prefer more.
The second prize in this lottery is receiving C$25,000 every year for the rest of your life. Perhaps that does not look much, but it's a valuable reward to collect each year.
The Daily Grand lotto ticket costs only C$3. To win the jackpot, you need to have five winning numbers between 1 to 49 and one Grand Number or a bonus ball between 1 and 7. Every lotto participant has an equal chance to win the lotto draw, and the odds of winning the top jackpot are 1-in-13.3 million.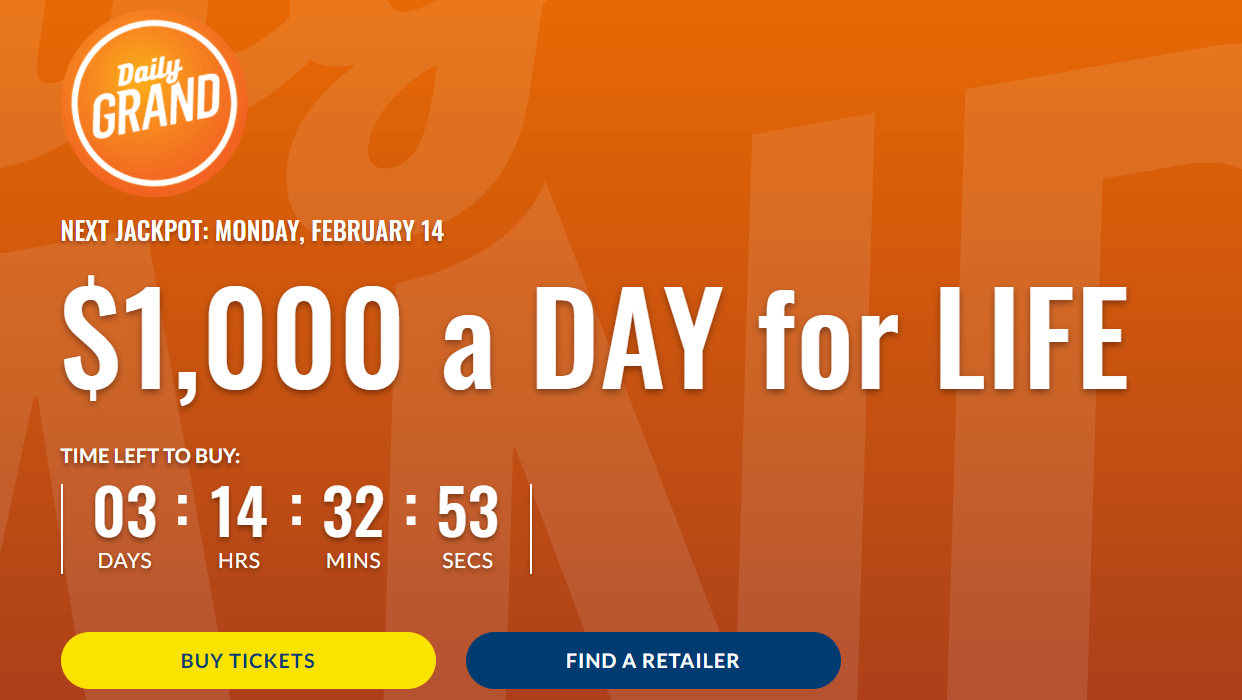 Keno
Keno is a popular lottery game both offline and online. You can visit casinos and slot facilities to play it, or you can enjoy it from the comfort of your home. Provincial gaming commissions usually provide these games, so their rules, draw date, and payouts are variable from one place to another. Unlike typical lotto games, keno tickets do not have a fixed price. For example, you can participate in a game with as low as one dollar or go up the stakes and play a game for ten dollars.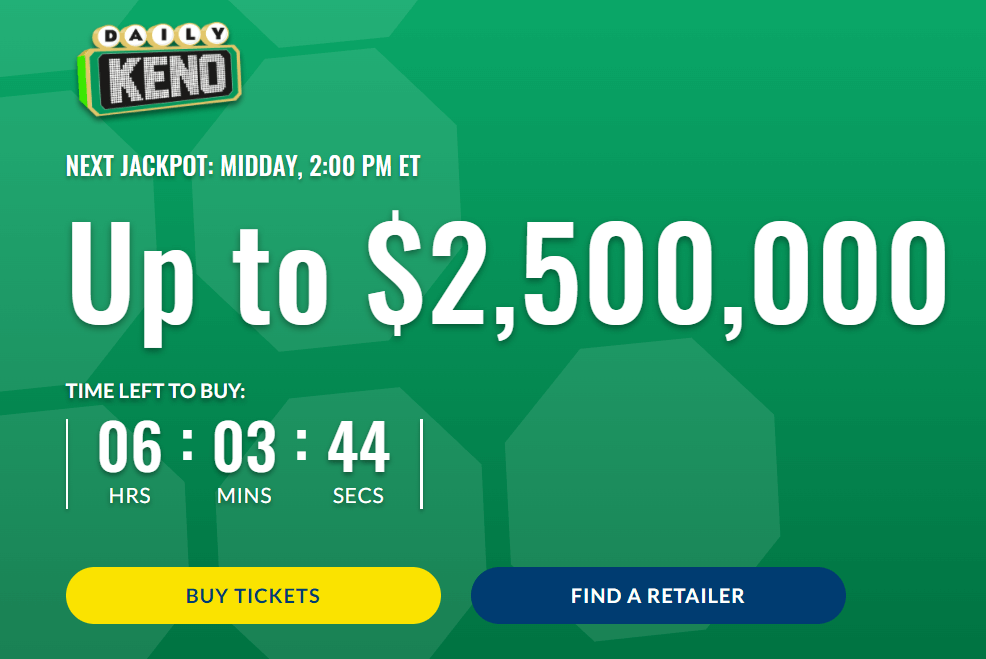 Poker Lotto
This lottery variant combines lotto and poker, giving an exciting twist to lotto games. Your lotto ticket is a five-card poker hand, giving you two chances to win a prize. One is the instant wins – the top prize being C$5,000. The other one is the nightly draw, coming with a nice C$100,000 first prize if your five-card poker hand matches the randomly selected numbers. The odds of winning any prize in this lottery is just 1-in-3.66, which appeals to many players and leads to millions of tickets sold each week.
Instant Win Games
Instant win games, also known as scratch card games, are favoured to play online and offline in Canada. When you buy a scratch card from a physical store, you get a card with areas to scratch off. They reveal various prizes, and if you match the same symbols, commonly three or more, you will win a specific award. Online scratchcards are a bit different. You can immediately reveal areas and see if you won instantly, hence their name. "Cash for life" and "$1 Million Royale" are two of the most popular Instant Wins games in Canada.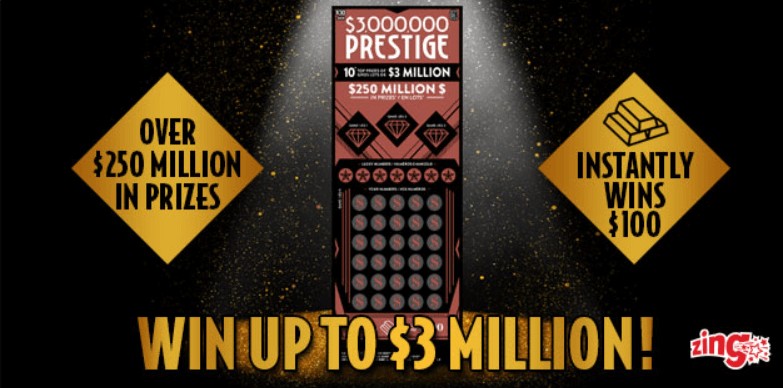 How To Play Lottery Games and Win Lottery Jackpot
First of all, if you are in Canada, players need to meet specific requirements first before playing any lottery scheme or game of chance. All individuals must be 18 years old to participate in a lottery, charitable gaming and in-store sports betting. Also, individuals must be at least 19 years old to visit casinos and slot facilities and participate in online casino gaming and online sports betting across provinces in Canada. Finally, the Ontario Lottery and Gaming Corporation is a government agency that provides legal lottery and gaming entertainment for Canadian citizens.
Offline Vs. Online Casino Gaming
Each lotto game has its unique characteristics, but the method of playing is everywhere the same regardless of the lotto variant. People can choose to play offline or online, and both have their pros and cons.
Offline playing requires going to a retail store, like a gas station or a grocery store. There you can purchase the ticket, manually fill the numbers and give it to the cashier for processing after you buy your entrance to the lotto draw. Then you will receive your lotto ticket with your selected numbers. That serves as proof that you have entered the lottery. You must hold on to the ticket because you will not be able to claim a prize if you lose or destroy your ticket.
A more convenient method for playing the lotto is buying a ticket online. First, you have to create and register an account on a legit gambling site and deposit with the preferred payment option. One of the top advantages of playing lotto online is that players cannot lose their lotto tickets. It is also effortless to buy lottery tickets without going out to stores for the next draw date.
Besides all that, you will receive an email notification if you win a prize online, and your cash winnings are posted directly to your account. You do not have to travel somewhere to collect cash, so the security of financial transactions is higher online.
How To Win The Lottery Games Canada – Tips and Advice
An important thing to note is that lottery games are games of chance. Playing the lotto is not like playing blackjack or poker, where you can do some things to improve your chances of winning. The main point of the lotto is to play, have fun, and hope for the best.
However, players can still follow some essential tips that may help in enhancing their enjoyment of the game and bring them closer to winning. The following are ones to remember:
Buy more lotto tickets

. Buying more gives you a greater chance to win, but the downside is that you will need to spend more money to win a prize. The worth of the amount won may not be compensated entirely because of the higher investment.

Form or join a lotto syndicate

. The more people in the alliance and the more tickets in play – the higher the chances for winning the largest jackpot in the game. However, if you win the largest jackpot, you have to share it with many other people, which is a downside. However, if you do not wish to spend lots of money to buy tickets, joining or forming a lottery syndicate will boost your chances of winning.

Avoid selecting consecutive numbers.

Try to mix things up for a variety. Rarely ever does anyone win by selecting 1,2,3,4,5 and 6 as their winning numbers. Also, do not pick a number that belongs to the same number group as others or ends in the same digit. The probability of winning such a combination is very low. Many people are playing numbers of their birthdays or anniversaries, corresponding with numbers between 1 and 31. However, it is advisable also to use numbers above 31, which can boost the probability of you not sharing the prize with anyone else if you manage to win.

Use not-so-common numbers

. Lotteries are games of chance, and there is no way for a person or software to predict which numbers will be winning numbers accurately. But you can boost your chances of not splitting the winning jackpot cash prize if you select not-so-common numbers. If you do not know what to pick, just let the software generate random numbers for your ticket.

Choose suitable lotto games

. There are many lotto types you could play both offline and online. Play the national lottery always, as the lottery draw in such a nationwide lottery comes with larger prize pools than local lotteries or the state lottery.

Play free lotteries.

Online you can find plenty of free-to-play lotteries. These may be a part of some advertising or charitable campaign, but they still can bring you real cash prizes despite being free to enter.

Play Responsibly.

Lotto

is a gambling game and you should treat it as a fun pastime, not something that will bring you money. Choose your lottery numbers and enjoy the draw without a sweat. Lottos are very fun to play, but your joy might disappear if you spend too much money on tickets, chasing that winning number that will make you a millionaire.
Lottery Games FAQs
What are the different lottery games?
There are plenty of lottery games you can participate in. Lotto Max, Lotto 6/49, the Daily Grand are just a few of them you can play.
Which lottery is easiest to win?
There is no straightforward answer to this because all games are games of chance. Keno, Poker Lotto, Daily Grand, and Lotto 6/49 have lower odds of winning the main jackpot than Lotto MAX, but that does not guarantee any easiness in winning.
What is the best game to play in the lottery?
It all depends on personal preferences. In Canada, Lotto MAX is probably the best for many because the huge jackpot starts with millions of dollars and goes up all the time until someone wins it.
What is the best lottery ticket to buy in Canada?
The cheapest nationwide lottery tickets are Lotto 6/49 and Daily Grand, costing C$3 each. Keno is also an affordable lottery to participate in online.
Is there a trick to win the lottery?
Unfortunately, no. Lotto is a gambling game that relies on pure luck. You pick your numbers, enter the draw and hope that your winning number will appear in the lottery game of your choice.