BlackJack and everything you need to know to become great at it
Yes, we are speaking about BlackJack. The card game.
Jack Black is something else. Well, actually someone. You know, the actor who played in School of Rock.
Anyway, the BlackJack game is one of the most popular casino games. Both online blackjack games in online casinos and offline casinos where the main goal likewise is to beat the dealer. Some researchers believe that the history of the BlackJack game originates somewhere around the year of 1700. The place where it has become a thing are the French casinos. 
Vingt-et-Un was the name of the French cards which translates to "Twenty one". Newswatch TV writes that BlackJack was played at the royal courts during the reign of King Louis the XV. 
This popular casino game reached its glory in the USA because of the French colonialists.
A fun fact from that time is that only the dealer's hand was allowed to double. Compared to the BlackJack that we know today, the rules were entirely different.
This is how a modern-day blackjack table looks: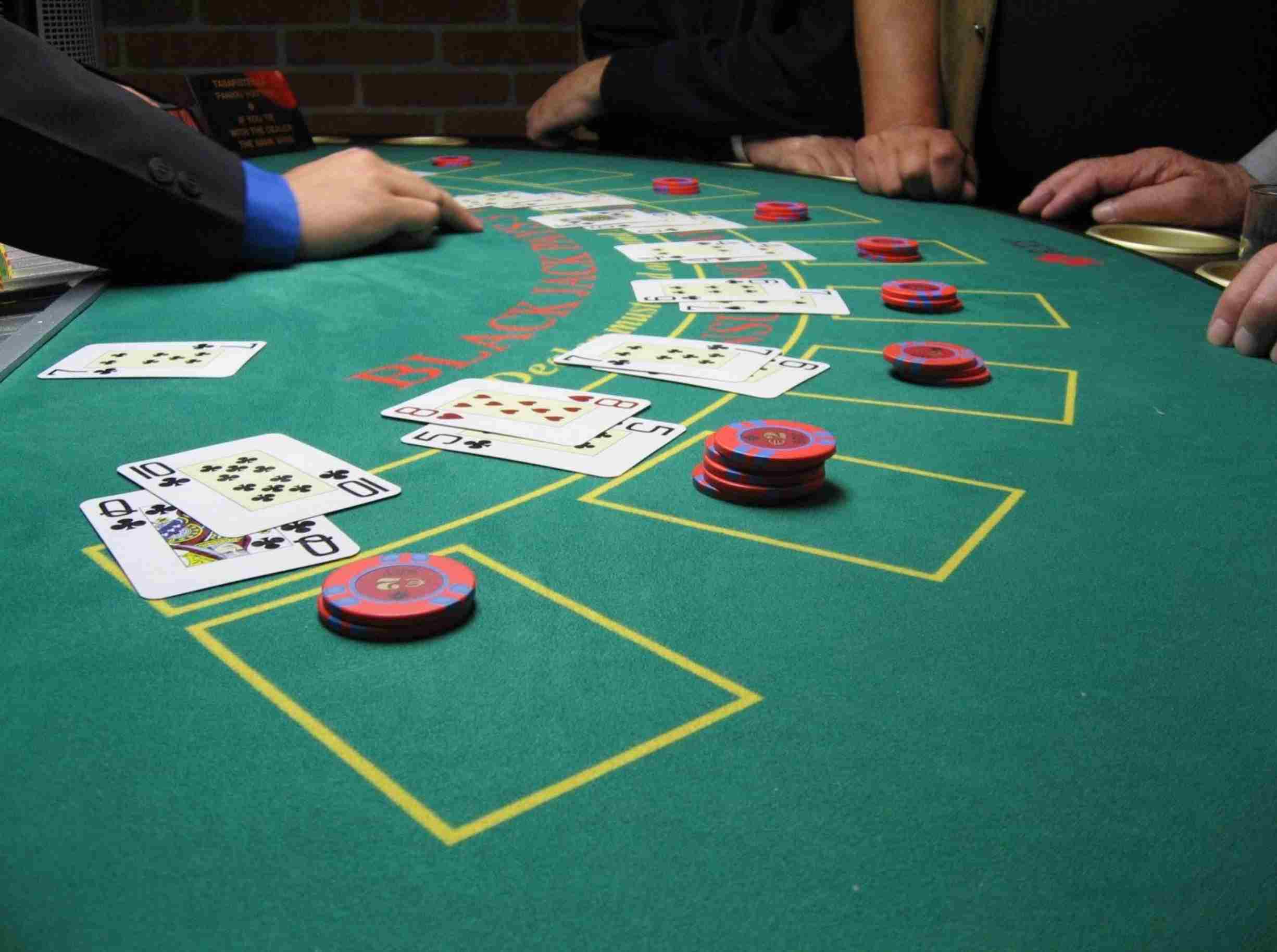 Today, blackjack has become one of the most popular card games. Therefore, there are lots of variations and forms of this game. You can find it under various names such as Online Blackjack, BlackJack Plus, Single-Deck Blackjack, Double-Deck Blackjack, BlackJack Split, etc. The game has even impacted card games you can play on your pc as there is a BlackJack Solitaire version where you must make 21 win points, but you also have to eliminate all of the cards on the deck.
Rules of BlackJack
If you are googling "how to play blackjack", "black how to play" and other search-related queries,  don't bother. We gathered all the answers for you regarding the basic strategy within the blackjack rules. 
The game is played with the standard 52 card pack.
*You don't use jokers and there are no wildcards.
Most of the casinos use a specific number of decks. Usually 2, 6 or 8.
BlackJack Card values:
The cards are valued based on their ranking. (ex. A 2 is worth two points, a 3 is worth three points and so on)

Each of the face cards like king, queen and the jack are worth 10 points.

Aces are counted either 1 or 11 based on what suits the player better. 

A pair of aces gives players a starting hand of either 2 or a soft 12.
Before you play Blackjack, you have to buy into the game, so basically you exchange cash for chips. In a BlackJack game, your game is independent of other players meaning your only opponent is the dealer. So, by getting a score bigger than the dealer's and not crossing 21, you are the winner of that blackjack hand by rule. 
The dealer will start giving each player one card and he/she will also receive a dealer's face up card. After this, the dealer will hand over additional cards one at a time giving each player their second card in the form of a face up card. The dealer will also receive a second card, however, the dealer's second card will always be face-down after the first two cards have been dealt. 
So, you may ask, how to win at blackjack games. Well, here comes the fun part. 
The goal of the game is to get a score as near to 21 as possible, without going over.
Right after the cards are dealt, there is a situation called blackjack or a natural, and you can consider this as an instant win/loss depending on whether you are the player or the dealer. 
As the GamblingSites writes, A blackjack, or natural, is a 2-card hand worth 21 points. To get a blackjack, you must have an ace, but you must also have a 10-point card. It doesn't matter if it's a card face or a 10, it still counts as blackjack if it's 2 cards that make up a total of 21.
If a player gets a natural and the dealer doesn't, the player immediately gets paid off at 3 to 2 odds. In other words, if you bet $5 on the hand, you win $7.50 immediately.
By now, you are already on the blackjack radar. Who knows, your next escape day with your friend might include blackjack with friends or at least you might play blackjack online for fun. Whatever way you prefer – playing online or physically – our blackjack strategy got you covered.
BlackJack Glossary
While you are getting familiar with everything BlackJack has to offer, we thought that you might run into some common terms used in this game, so to keep you ready for the convo, we collected them and put them here. 
Side bet
Basically, a side bet in Blackjack means adding an additional bet during the game. Side bets are placed before the cards are dealt when you play Blackjack and they are connected to predicting which cards the players or the dealer will receive.  
Insurance
Insurance is one of the most common bets in Blackjack. According to Pokernews, this bet involves half of your original stake and pays out at 2:1 if the dealer has Blackjack. The insurance bet reduces the overall house edge in favor of the player.
Perfect pairs
With Perfect pairs side bet in the blackjack game, the players actually bet that the first two cards dealt make a pair. There are three types of pairs:
– Perfect pair = Same value, same suit
– Coloured pair = Same value, same colour, different suit
– Mixed pair = Same value, different colour
The payouts vary from casino to casino.
21+3
This side bet includes the player's two cards and the face turned card of the dealer. This bet includes players betting on the three cards combining different suits and values. 
Soft 17
A Soft 17 in BlackJack is a hand that includes when two cards combine for the total value of 17. Everytime an ace counted as 11 is included, that makes it a soft hand. Not so weird you may say, however this combination causes a problem for players when needed to decide whether they hit or stand. Casinowebsites suggests that when playing the soft 17, you should hit because the third card dealt by the dealer may raise your chances of winning. 
Surrender
The Surrender is not a side bet particularly. According to the Telegraph, you are offered the chance to compare your opening two-card hand with the dealer's face-up card and surrender if you believe they are more likely to get blackjack. The player sacrifices half their original bet, but gets half their bet back and ends their involvement in the hand while playing blackjack.
Hole Cards
Hole card or hole carding is a blackjack strategy of reading the dealer's card face down.  
How to count cards in BlackJack?
One of the most frequent questions that pop up when it comes to BlackJack is how to count cards in blackjack. 
Card counting is a Blackjack technique that players use to know the moment when they are an advantage. When they sense the moment, card counters will increase the bets they wager. It works the other way around when the dealer has the advantage. Then players make a smaller bet or not bet at all by not playing.
This technique is basically divided into 4 steps:
You assign a value to every card

You need to keep a running count based on the values of the card dealt

So now you use the previous information to calculate the count per deck 

Last, you change bets as the count rises
You can still look up to Mike Aponte explaining this technique.
Hint: Mike Aponte is an ex-member of the famous MIT team (keep reading the article and you will find more about the MIT team) 
Another exciting betting technique in BlackJack is what people call double down blackjack.
Double down blackjack is basically a move you make in the middle of a hand and it means that you double your original bet and you receive one more card. This is an utterly risky move, therefore profitable in terms of money. However, if you receive a low card, you can't hit again, and you could say adios to twice as many chips.
Some of the most famous wins in Black Jack
We totally get it if you are interested in how much you can make playing blackjack. 
| | |
| --- | --- |
| Name | Amount |
| Kerry Packer | $40 million |
| Don Johnson | $15.1 million |
| Ken Uston | $4.5 million |
| MIT students | $50 miliion |
| "Shoeless" Joe | $1.5 million |
Source: SevenJackpots.com
Throughout the modern history of BlackJack games there are more notable wins in the game, or to say it even better, there are some great stories surrounding these wins. 
Millionaire Kerry Packer won $40 million dollars in just 40 minutes! Wow! This story is set in 1995 when packer visited the MGM Grand. Packer placed $250.000 in bets in each round and played 8 hands at the same table. And as a cherry on the top for the night, Kerry Packer left a million dollar tip for the dealers of the night. 
Don Johnson is a millionaire as well and his wins are noted in period 2010-2011. He went on to win 1$15.1 million dollars in a streak in the period December 2010 – April 2011. It is said that he uses a deep-going mathematical blackjack strategy beyond card counting while playing. 
Ken Uston and his team come at the third place with a $4.1 million dollar win in the period 1975-1981. He uses mathematical strategies and he is known as the creator of the blackjack card counting. What is even better is that it is speculated that casinos had to come up with multi-hand blackjack and several card deck shoes.
You don't usually associate MIT with casinos and BlackJack, we know. However, we recommend you watch the movie 21 and you will find more about this fun fact. Long story short, a group of MIT students consisted of around 80 students, went on to win $50 – $100 million dollars in Atlantic city. 
The story about "Shoeless" Joe is one in a billion for sure. In 1995, a guy named Joe walked in without his shoes at the Treasure Island. Hence, this is where he got his nickname from. It is said that his wife got him out of their house and Joe was homeless at the time. He got a $400 security check and decided to test his luck that night. Couple of hours later, Joe won $1.5 million dollars and thats when he became an instant hit. However, it is said that due to his aggressive nature and reckless moves, he lost it all in the same night. 
Responsible gambling
By the time you have read this article, it is fair to say that you will be motivated to test yourself how much can you go up on the ladder at BlackJack.
However, please note that BlackJack is only a card game and nothing more. Even if you do win sometimes at BlackJack, be aware that million-dollar wins are not that common and even players who won big, have lost millions more in the meantime. Especially (online) blackjack with a house edge favoring the dealer over the players give a casino an advantage which should not be left out of the equation.
Please be careful and have in mind that you might get addicted and that is the last thing we want. 
A lot of organizations are working in the field of responsible gambling and preventing addictions, so please make sure to visit:
Online casinos where you can play Blackjack
Congratulations! If you are still here and managed to read the entire article, bravo! Go get a nice big mug of hot coffee since you deserve it champ!
We suppose you truly are interested in a live blackjack session.
If this article helped you get some starters knowledge in BlackJack and you feel that the Gods of the cards have picked you, well here are some online casinos where you can test your luck, knowledge and skills: